Weather Words:
"Condense" comes from a 15th century Latin word that means, "to make dense." When water vapor condenses to liquid, the water molecules are more dense or closer together.
"Ski" comes from an old word from Norway that means "stick of wood." From the same word we also get the English word "skid." Rightly so, because skiing is simply skidding down a hill on two sticks of wood!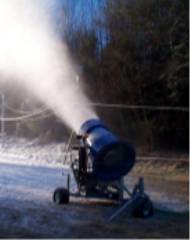 When the weather turns cold, many of us look to the hills for recreation. This is the time to wax up the skis or strap on the snowboard and catch some fresh powder. You say there's no snow in mountains? That's no problem. Most ski areas have a way to make their own snow and allow the ski lifts to operate even when nature doesn't cooperate.
"We make 100% of our snow," says Steve Mason, the mountain manager at Sky Valley Ski Slopes in northeast Georgia. "It's nice when we get it naturally, but we can't rely on that." Sky Valley uses a system of snow guns, which shoot out a combination of cold water and compressed air. Like wind from a giant tire pump, the jet of air splits the water into tiny droplets that turn to ice crystals before they hit the ground. The ski area also has another machine equipped with a high-speed fan to break the water up into tiny droplets. Without the compressed air or fan, the machines would simply create sheets of ice instead of piles of snow.
Fake Snow? Oh No!
Even though the snow is man-made, it is not artificial. "It's as real as the snow that falls from the sky," says Mason. That's because Sky Valley's machines are designed to imitate the natural snowmaking process in our atmosphere. In nature, water vapor (water in gas form) rises high into the sky where it cools, condensing back to liquid droplets and ice crystals. In order for this to happen, each droplet or crystal needs a microscopic bit of dust or salt to cling to. As the little ice crystals attract cooled water droplets, they grow into larger crystals we call snowflakes.
Cold and Dust, Just Add Water
Just as nature uses bits of dust, cold air, and water to form snowflakes, snow machines need the same ingredients. Water already contains some dust particles, but like many ski areas, Sky Valley adds some artificial particles to the water to help the process along.
Next, they need water, and lots of it. To cover an area the size of two football fields with six inches of snow, they need enough water to fill about ten tanker trucks. That's why ski areas pump water from a lake or reservoir to their snow machines. From a nearby pond, Sky Valley pumps about fourteen hundred gallons of water to its snow makers every minute.
Making Measurements
Even when skies are clear, snow machine operators need to watch the weather. Before turning on the snow machines, Steve Mason and his crew measure both the temperature and the moisture content of the air. "Some people don't realize that to make snow, the air temperature has to be below freezing," he says. "We usually start making snow at 28 degrees, but twelve degrees is even better. We can make a lot of snow in a short time when the water freezes fast."
The air must also be dry, because in dry air, water can cool more quickly than in air filled with water vapor. And it is helpful to have a large distance from the snow machine to the ground. That's why Sky Valley mounts some of its snow makers on tall towers. This gives more time for the water to turn to snow before it hits the ski slopes below. Some ski areas have computerized machines that measure temperature and humidity, and then adjust the amount of air that mixes with the water. Whether they are done by computer or by humans, these adjustments make sure the man-made snow won't be too wet and icy, or too dry and blow away.
Most avid skiers will tell you they can tell the difference between natural and man-made snow. But without snow making machines, Georgians would have to go hundreds of miles farther to ski and snowboard, or do it in only one or two months out of the year. With a little help from machines, skiers can stay in the state and glide down the slopes all the way into March.
ęCopyright 2004 Nick Walker/Small Gate Media